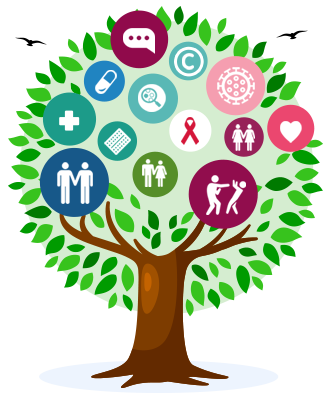 C-Card Issue Points
Where you can register or collect free condoms, including using our new Click and Collect
Find the nearest to me
Barrier methods
Condoms
Condoms are a thin sheath of latex rubber or polyurethane which fits over an erect penis or sex toy. Some condoms are lubricated to make them easier to use.
Condoms are 98% effective if used correctly
Condoms and femidoms are the only methods of contraception that help to protect against sexually transmitted infections (STIs)
They can make sex easier (because of their lubrication), more fun (some have flavours or have ribs and dots) and more satisfying (some guys find sex lasts longer with a condom on)
Condoms come in a variety of sizes - regular and king-size. Its important to get the one that suits you and/or your partner best.
Internal Condoms
Internal condoms and are made of very thin polyurethane (Non Latex). It is put into the vagina and loosely lines it.
Internal condoms are 95% effective if used correctly
You can put the internal condom in any time before sex but always before the penis or sex toy touches the vagina or genital area.
Internal condoms may be more of a challenge for those who are not comfortable touching their genital area.
Do not use a internal condom more than once. If you have sex again, use a new one
Diaphragms and Caps
A diaphragm is inserted into the vagina before sex so it covers the cervix; cervical caps are smaller and need to be put directly onto the cervix. They both work by stopping sperm entering the uterus. You need to use spermicide with both diaphragms and caps (spermicides kill sperm).
When used correctly with spermicide, the diaphragm and cap is 92-96% effective.
There are no serious health risks.
You only have to think about it when you have sex.
You can put the diaphragm or cap in several hours before you have sex.
It can take time to learn how to use a diaphragm or cap.
If you lose or gain more than 3kg (7lbs) in weight, or have a baby, miscarriage or abortion, you may need to be fitted with a new cap.
Like many contraceptive methods, they do not protect against sexual transmitted infections.