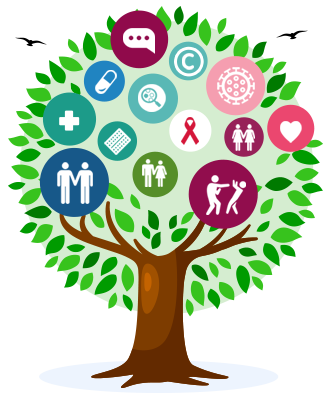 C-Card Issue Points
Where you can register or collect free condoms, including using our new Click and Collect
Find the nearest to me
Herpes
This is a virus there are two types of herpes simplex virus (HSV), type 1 and type 2. Both types are highly contagious. Type 1 is associated with the cold sores and Type 2 genital herpes
How you get it:
Unprotected penetrative sex (vaginal or anal) and oral sex
Other genital skin to skin contact.
Even if someone with genital herpes doesn't have symptoms, it's possible for them to pass the condition on to a sexual partner
Symptoms:
Not everyone will get symptoms. The first attack the person may feel very unwell with flu-like symptoms with painful blisters around the genital area. It may be very painful to pee.
Recurrent infections although the initial symptoms of genital herpes clear up, the virus remains dormant (inactive) in a nearby nerve. The virus may be reactivated from time to time, travelling back down the nerve to your skin and causing recurrent outbreaks.
Treatment:
If you don't have significant discomfort or pain from herpes, no treatment is required.
A course of antiviral tablets and/or ointment
If it's not treated:
There's no cure, and the blisters may come back, but the first outbreak is usually the worst, and often they don't come back at all.