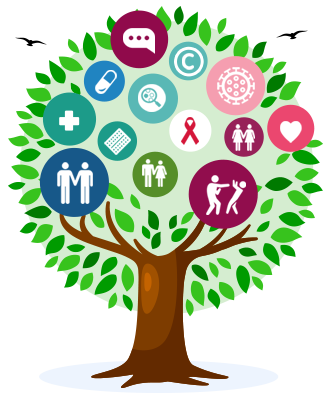 C-Card Issue Points
Where you can register or collect free condoms, including using our new Click and Collect
Find the nearest to me
Visiting SWISH for an IUC
Intrauterine contraception (IUC) refers to two types of contraceptive devices that are placed into the uterus by a specially trained doctor or nurse, the intrauterine system and intrauterine device. These are often referred to as Coils.
Those with a IUS called a Mirena please be advised that since March 2023 The Faculty of sexual and reproductive health (FSRH)
Stated the following:
Updated guidance supports the use of the Mirena coil (52 mg LNG-IUD) for 6 years for contraception if the user is under 45 years old at the time of insertion.
Individuals who have a Mirena inserted when they are above 45 years old can use the device for contraception until age 55 years, after which time contraception is no longer required.
If you have an IUC appointment with Swish please read below and watch the video for more information before your appointment.
Please also check if your GP already provides this service as priority is given to patients whose GP does not offer the service and those who have more complex needs. SWISH has a list of all GP practices who offer the service and you will be asked which practice you belong to, should your practice offer this service SWISH will ask you to contact them for an appointment.
IUC Consultation Appointment:
We offer telephone IUC consultations at SWISH. Everyone needs to have a IUC consultation before they attend for the fitting or re-fitting even if you have already discussed this with your GP (with the exception of an emergency IUD ). The reason for this is to ensure there is no pregnancy or infection risk before a fitting and to ensure you are aware of the process of having a IUC fitted and can ask any questions you may have to our clinical staff. For more information on Intrauterine Contraception please click here
IUC Fit and Re-Fit Appointment:
Fit Appointments: Do not have sex from the first day of your period until the fitting unless you are using another method of contraception such as the pill, patch, injection or implant. Do not rely on condoms; failure to do this may prevent the fitting going ahead.
If you are not having periods and are not on contraception, please DO NOT HAVE SEX FOR 3 WEEKS PRIOR TO THE FIT APPOINTMENT
Re-fit Appointments: AVOID SEX FOR 7 DAYS PRIOR TO YOUR RE-FIT APPOINTMENT
All fits and refits:
Be prepared to provide a urine sample for pregnancy testing during the consultation.
Please take a painkiller such as Paracetamol, Ibuprofen or Mefenamic Acid about an hour before your appointment.
Please do not miss a meal before having your coil fitted, eat a light snack if you think you have not eaten for 3 hours prior to your appointment.
Please do not bring children to a coil fit appointment unless you are coming with another adult who can take care of them.
After the Fit: After your IUC is fitted please watch the video below for post insertion advice
For futher information post coil fitting click here
IUC Removals:
If you are having your IUC removed at SWISH and you do not want another one put in and you do not want to get pregnant, you must use additional contraception such as condoms or AVOID SEX FOR 7 DAYS BEFORE YOU HAVE IT REMOVED. You are at risk of pregnancy as soon as the IUC is removed.
If you want another method of contraception we would recommend starting the other method before having the IUC removed as this will ensure you are not at risk of pregnancy.
Please do not bring children to a IUC removal appointment unless you are coming with another adult who can take care of them.
Emergency IUD (also know as copper coil):
If you have had sex without contraception or your contraception has failed (i.e. split condom or missed contraception) emergency contraception can help prevent a pregnancy.
A copper intrauterine device (IUD) also known as a copper coil can be fitted as emergency contraception and is 99% effective at preventing pregnancy. It needs to be fitted within five days (120 hours) of unprotected sex or up to five days after the earliest time you could have released an egg (ovulated).
It is very important that you know the date of your last period and your normal cycle length to ensure an emergency IUD can be fitted safely.
Please contact us as soon as possible if you think you need emergency contraception, we have designated appointments throughout the week for emergency IUDs.
You can also have emergency contraception in a pill form, please click here for more information, however, depending on where you are in your menstrual cycle, this may not be effective.